Audiobooks
Our full range of audiobooks. Amazing narrators from around the globe, transporting listeners to the Wizarding World.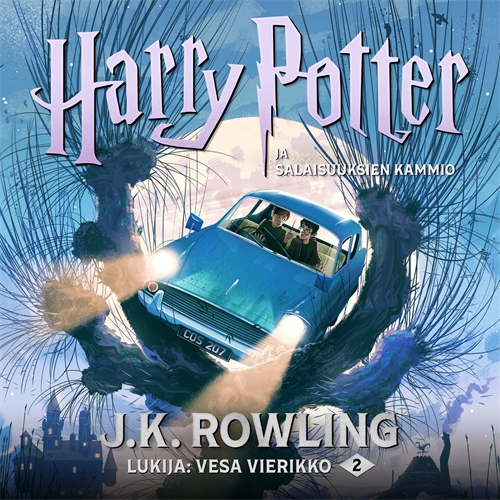 Harry Potter
Harry Potter ja salaisuuksien kammio
Read by Vesa Vierikko
Audiobook
"On punottu juoni, Harry Potter. Juoni, joka aiheuttaa kamaluuksia tänä vuonna Tylypahkan noitien ja velhojen koulussa."
Harry Potterin kesään on kuulunut kaikkien aikojen kehnoin syntymäpäivä, uhkaavia varoituksia kotitonttu Dobbylta, sekä Ron Weasleyn lentävällä autolla suorittama pelastus Durseyltä! Palattuaan Tylypahkan noitien ja velhojen kouluun toista vuottaan varten, Harry alkaa kuulla tyhjillä käytävillä outoja kuiskauksia. Sitten hyökkäykset alkavat. Oppilaita löytyy ikään kuin kiveksi muutettuina… Dobbyn pahaenteiset ennustukset näyttävät käyvän toteen.
Teemamusiikin säveltäjä James Hannigan
You've arrived at pottermorepublishing.com, the official website from the global digital publisher of the Harry Potter and Fantastic Beasts books. Feel free to browse, but if you're not a retailer or distributor, you might prefer to visit one of the following sites:

www.wizardingworld.com www.jkrowling.com
error:
Right click has been disabled.