Audiobooks
Our full range of audiobooks. Amazing narrators from around the globe, transporting listeners to the Wizarding World.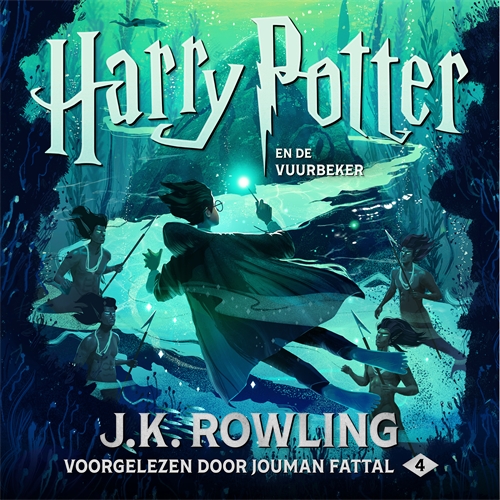 Harry Potter
Harry Potter en de Vuurbeker
Read by Jouman Fattal
Dit is de editie uit 2020 van Harry Potter en de Vuurbeker, voorgelezen door Jouman Fattal.
"Er zijn in totaal drie opdrachten, die verdeeld zullen worden over het schooljaar en die de kampioenen op vele verschillende manieren op de proef gaan stellen… zo zal hun magische bekwaamheid worden getest – hun durf – hun talent voor logisch denken – en uiteraard hun vermogen om het hoofd te bieden aan gevaar."
Het Toverschool Toernooi wordt op Zweinstein gehouden. Alleen tovenaars van boven de zeventien mogen meedoen, maar dat weerhoudt Harry er niet van om ervan te dromen de wedstrijd te winnen. Dan maakt de Vuurbeker tijdens Halloween zijn keuze, en Harry staat versteld wanneer het magische voorwerp ook zijn naam tevoorschijn haalt. Hij zal levensgevaarlijke taken moeten volbrengen en het moeten opnemen tegen draken en duistere tovenaars, maar met de hulp van zijn beste vrienden Ron en Hermelien zal hij zich er misschien doorheen weten te slaan… en het overleven!
Jouman Fattal is een bekroond actrice, bekend van haar rollen op het scherm en op het toneel. Haar vertelling van de Harry Potter-serie geeft de serie een geweldig nieuw stemgeluid voor een nieuwe generatie luisteraars.
Titelmuziek gecomponeerd door James Hannigan
error:
Right click has been disabled.