Audiobooks
Our full range of audiobooks. Amazing narrators from around the globe, transporting listeners to the Wizarding World.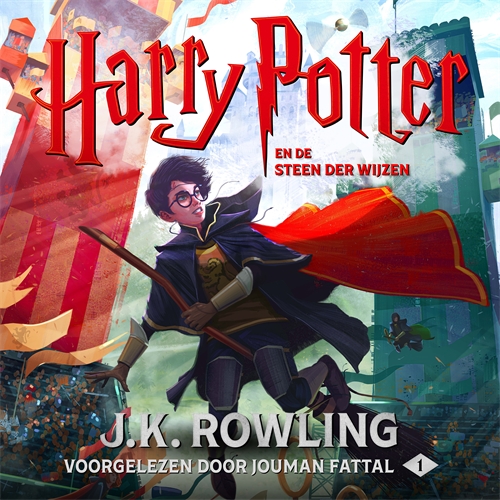 Harry Potter
Harry Potter en de Steen der Wijzen
Read by Jouman Fattal
Dit is de editie uit 2020 van Harry Potter en de steen der wijzen, voorgelezen door Jouman Fattal.
"Harry keerde de envelop met trillende handen om en zag een paars lakzegel, met een wapen erop: een leeuw, een raaf, een das en een slang, rond een grote letter 'Z'."
Harry Potter heeft nog nooit van Zweinstein gehoord als de brieven door de bus van Ligusterlaan 4 worden gegooid. De perkamentachtige enveloppen, beschreven met groene inkt en bestempeld met een paars zegel, worden al snel door zijn nare oom en tante in beslag genomen. Op Harry's verjaardag krijgt hij echter bezoek van een reus van een man met ogen als zwarte torren. Hij heet Rubeus Hagrid en heeft verbazingwekkend nieuws: Harry Potter is een tovenaar, en er is plek voor hem op Zweinsteins Hogeschool voor Hekserij en Hocus-Pocus. Er staat hem een ongelooflijk avontuur te wachten!
Jouman Fattal is een bekroond actrice, bekend van haar rollen op het scherm en op het toneel. Haar vertelling van de Harry Potter-serie geeft de serie een geweldig nieuw stemgeluid voor een nieuwe generatie luisteraars.
Titelmuziek gecomponeerd door James Hannigan
error:
Right click has been disabled.