Audiobooks
Our full range of audiobooks. Amazing narrators from around the globe, transporting listeners to the Wizarding World.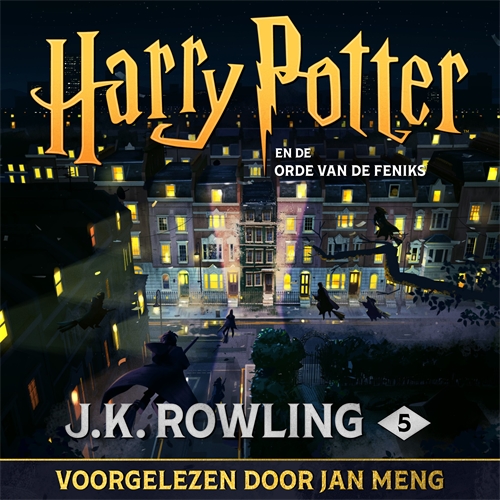 Harry Potter
Harry Potter en de Orde van de Feniks
Read by Jan Meng
Dit is de editie uit 2004 van Harry Potter en de Orde van de Feniks, voorgelezen door Jan Meng.
"Je deelt op bepaalde momenten de gedachten en emoties van de Heer van het Duister. Het lijkt professor Perkamentus verstandig om daar een einde aan te maken en daarom heeft hij mij gevraagd om je te leren hoe je je gedachten kunt afsluiten voor de Heer van het Duister."
Er zijn donkere tijden aangebroken op Zweinstein. Nadat Dementors zijn neef Dirk hebben aangevallen, begrijpt Harry Potter dat Voldemort alles op alles zal zetten om hem te vinden. Velen geloven niet dat de Heer van het Duister terug is, maar Harry staat er niet alleen voor: een geheime orde komt samen op Grimboudplein 12 om te vechten tegen de duistere machten. Harry moet zich door Sneep laten leren hoe hij zichzelf kan beschermen tegen Voldemorts brute aanvallen op zijn geest, maar die worden met de dag sterker, en Harry heeft weinig tijd meer…
Jan Meng is een bekroond voorlezer van vele succesvolle luisterboeken, waaronder In de ban van de ring, Winnie de Poeh en de oorspronkelijke Nederlandse opnames van de Harry Potter-serie.
Titelmuziek gecomponeerd door James Hannigan
error:
Right click has been disabled.