Audiobooks
Our full range of audiobooks. Amazing narrators from around the globe, transporting listeners to the Wizarding World.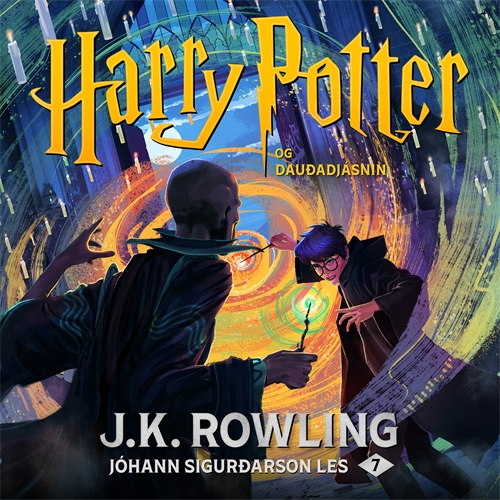 Harry Potter
Harry Potter og dauðadjásnin
Read by Jóhann Sigurðarson
"Færið mér Harry Potter," sagði rödd Voldemorts, "og enginn mun hljóta skaða. Færið mér Harry Potter og ég mun láta skólann óáreittan. Færið mér Harry Potter og ykkur mun verða launað ríkulega."
Þegar hann fer upp í hliðarvagninn á mótorhjóli Hagrids, yfirgefur Runnaflöt í síðasta sinn og svífur upp til himna veit Harry Potter að Voldemort og drápararnir eru ekki langt undan. Verndargaldurinn, sem hefur haldið Harry öruggum, er nú rofinn, en hann getur ekki haldið áfram að vera í felum. Myrkrahöfðinginn vekur ugg í brjósti allra sem Harry elskar en Harry verður að finna og eyðileggja helkrossana, sem eftir standa, til að stoppa hann. Lokaorrustan verður að hefjast – Harry verður að standa frammi fyrir óvini sínum …
Þematónlist samin af James Hannigan.
error:
Right click has been disabled.