Audiobooks
Our full range of audiobooks. Amazing narrators from around the globe, transporting listeners to the Wizarding World.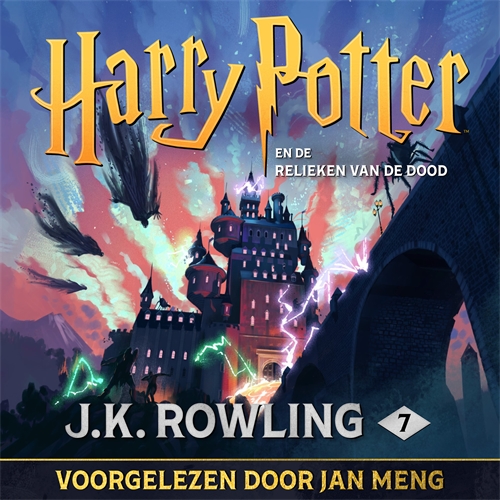 Harry Potter
Harry Potter en de Relieken van de Dood
Read by Jan Meng
Dit is de editie uit 2007 van Harry Potter en de Relieken van de Dood, voorgelezen door Jan Meng.

"Geef me Harry Potter, dan zal verder iedereen ongedeerd blijven," sprak de stem van Voldemort. "Geef me Potter en ik zal de school met rust laten. Geef me Potter en jullie zullen beloond worden."
Terwijl hij in de zijspan van Hagrids motor klimt, het luchtruim betreedt, en een laatste blik werpt op de Ligusterlaan, weet Harry Potter dat Heer Voldemort en de Dooddoeners hem op de hielen zitten. De spreuk die Harry tot nu toe heeft beschermd is opgeheven, maar hij kan zich niet blijven verstoppen. De Heer van het Duister vervult alles waar Harry om geeft met angst, en om hem te stoppen moet Harry de overgebleven Gruzielementen vinden en vernietigen. Het wordt tijd voor het laatste gevecht, en Harry moet het opnemen tegen zijn vijand…
Jan Meng is een bekroond voorlezer van vele succesvolle luisterboeken, waaronder In de ban van de ring, Winnie de Poeh en de oorspronkelijke Nederlandse opnames van de Harry Potter-serie.
Titelmuziek gecomponeerd door James Hannigan
error:
Right click has been disabled.