Audiobooks
Our full range of audiobooks. Amazing narrators from around the globe, transporting listeners to the Wizarding World.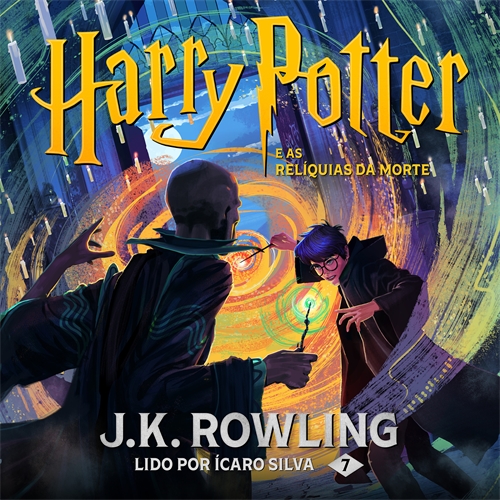 Harry Potter
Harry Potter e as Relíquias da Morte
Read by Ícaro Silva
Audiobook
Entreguem-me Harry Potter", disse a voz de Voldemort, "e ninguém sairá ferido. Entreguem-me Harry Potter, e não tocarei na escola. Entreguem-me Harry Potter, e serão recompensados."
Ao subir no sidecar da moto de Hagrid e subir aos céus, deixando a Rua dos Alfeneiros pela última vez, Harry Potter sabe que o lorde Voldemort e os Comensais da Morte estão em seu encalço. O feitiço de proteção que manteve Harry seguro até o momento foi quebrado, mas ele não pode mais se esconder. O Lorde das Trevas está incutindo medo em tudo que Harry ama e, para detê-lo, Harry terá de encontrar e destruir as Horcruxes que restaram. A batalha final está para começar – Harry precisa enfrentar seu inimigo…
Música tema composta por James Hannigan.
You've arrived at pottermorepublishing.com, the official website from the global digital publisher of the Harry Potter and Fantastic Beasts books. Feel free to browse, but if you're not a retailer or distributor, you might prefer to visit one of the following sites:

www.wizardingworld.com www.jkrowling.com
error:
Right click has been disabled.