eBooks
Browse our range of eBooks from the Wizarding World. A host of languages and a world of magic, all at your fingertips.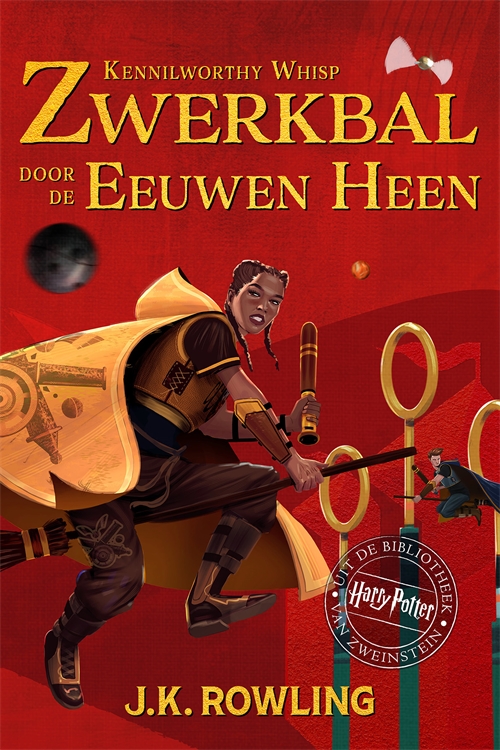 Hogwarts Library Books
Zwerkbal Door de Eeuwen Heen
Sinds de eerste uitgave is Zwerkbal Door de Eeuwen Heen een van de populairste boeken in de bibliotheek van Zweinstein geweest. Het boek is gelezen door Harry Potter, Hermelien Griffel en vele anderen, en het is de essentiële gids voor de favoriete sport uit de tovenaarswereld.
'Zwerkbal Door de Eeuwen Heen' bevat de reis vanaf het Blubberveld in de elfde eeuw tot de doorontwikkelde sport zoals we die vandaag de dag kennen. Het bevat momenten van ongelofelijke overwinningen en waanzinnige wanhoop (zoals het steunen van de Cambridge Cannons) die allemaal onderdeel zijn van Zwerkbal.
Kom alles te weten over de geschiedenis en regels van de sport, van de 700 overtredingen (en tijdens welk Wereldkampioenschap Zwerkbal al deze overtredingen werden begaan) tot het verschil tussen een Transsylvanische Tackle en een Woollongong Slingerslang.
Het barst in de bibliotheek van Zweinstein van allerlei soorten fascinerende boeken. Als je hebt genoten van Zwerkbal Door de Eeuwen Heen, zou je ook de andere boeken eens kunnen bekijken: Fabeldieren en Waar Ze Te Vinden en De Vertelsels van Baker de Bard.
Minimaal 15% van de netto verkoopprijs* van dit e-boek wordt gedoneerd aan Comic Relief (UK). Comic Relief (UK) is een geregistreerd goed doel met nummers 326568 (in Engeland & Wales) en SC039730 (in Schotland).
* De netto verkoopprijs is de prijs die betaald wordt door de consument zonder eventuele verkoopbelasting.
error:
Right click has been disabled.