eBooks
Browse our range of eBooks from the Wizarding World. A host of languages and a world of magic, all at your fingertips.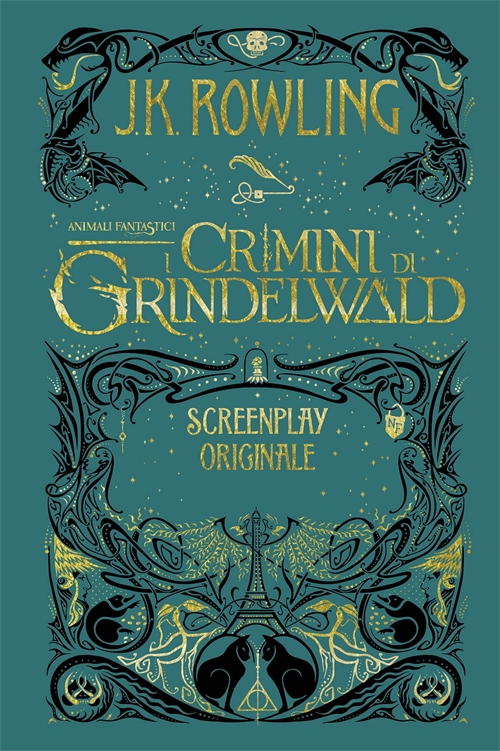 Fantastic Beasts Screenplays
Animali Fantastici: I Crimini di Grindelwald - Screenplay Originale
Animali Fantastici e dove trovarli si era chiuso con la cattura del potente Mago Oscuro Gellert Grindelwald, con l'aiuto di Newt Scamander. Tenendo fede alle sue minacce, Grindelwald riesce a fuggire; comincia a radunare seguaci, in gran parte ignari del suo vero progetto: portare al potere i maghi purosangue e sottomettere tutti gli esseri non magici. A sventare il folle piano di Grindelwald ci sarà il giovane Albus Silente, pronto a reclutare tra le sue fila Newt, il suo ex studente a Hogwarts che, ancora una volta, accetterà di aiutarlo, inconsapevole dei pericoli che lo attendono. I fronti sono ormai schierati; l'amore e la lealtà verranno di nuovo messi alla prova, senza risparmiare amici e familiari, in un mondo magico sempre più diviso. Il secondo di una serie di cinque film partita con Animali Fantastici e dove trovarli, Illustrato con le meravigliose immagini di MinaLima, il film contiene sorprendenti richiami alle storie di Harry Potter che faranno la gioia dei fan sia dei libri sia dei film, chiarendo e approfondendo eventi all'origine del Magico Mondo.
error:
Right click has been disabled.