eBooks
Browse our range of eBooks from the Wizarding World. A host of languages and a world of magic, all at your fingertips.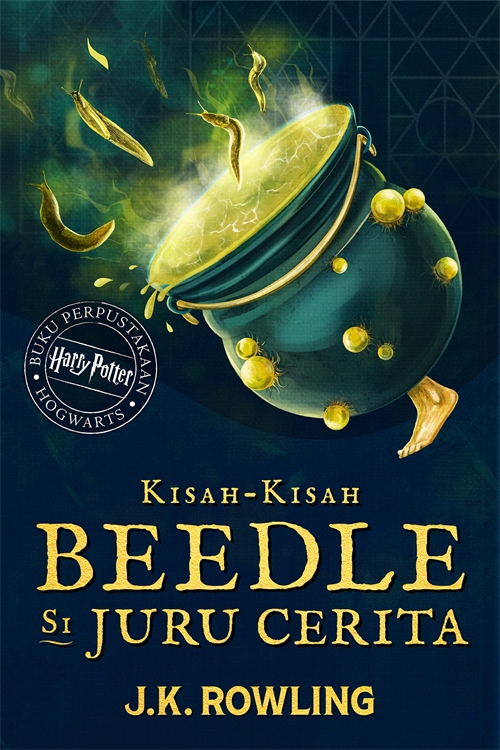 Hogwarts Library Books
Kisah-Kisah Beedle Si Juru Cerita
Sebuah koleksi kisah yang banyak sukai untuk para penyihir segala usia, Kisah-Kisah Beedle si Juru Cerita adalah Dongeng Grimm dunia sihir. Edisi ini diterjemahkan sendiri dari bahasa aslinya oleh Hermione Granger dan berisi catatan berguna dari Profesor Dumbledore serta J.K. Rowling.
Merupakan sebuah kesempatan luar biasa untuk membaca kisah-kisah yang memainkan peran penting dalam perjuangan melawan Lord Voldemort, dongeng-dongeng klasik ini pasti menyenangkan untuk dibaca dan bersifat mendidik. Secara keseluruhan, ada lima dongeng: 'Kisah Tiga Saudara' pasti tidak lagi asing di telinga siapa pun yang telah membaca Harry Potter dan Relikui Kematian; 'Air Mancur Mujur Melimpah', 'Penyihir Berhati Berbulu', 'Sang Penyihir dan Kuali Melompat', serta 'Babbity Rabbity dan Tunggul Terbahak' melengkapi koleksi ini.
Rak-rak di Perpustakaan Hogwarts juga meyajikan berbagai buku menarik. Jika kamu suka dengan Kisah-Kisah Beedle si Juru Cerita, kamu mungkin akan tertarik untuk melihat beberapa harta karun lainnya: Hewan-Hewan Fantastis dan di Mana Mereka Bisa Ditemukan serta Quidditch dari Masa ke Masa.
Lumos Foundation adalah badan amal yang terdaftar di Britania Raya dengan no. 1112575 (Inggris/Wales) dan di Amerika Serikat (EIN 47-2301085). Setidaknya 90% dari hasil penjualan* yang diterima oleh Pottermore Limited dari ebook Beedle Si Juru Cerita oleh penerbit akan diberikan kepada Lumos Foundation.

*Hasil penjualan yaitu harga tunai atau harga setara tunai dipotong pajak penjualan.
error:
Right click has been disabled.