Asking Olly Moss who his favourite Harry Potter character is seems to bring a kind of joyful agony to his face.
We're not playing fair; that's a tough choice. Perhaps it would be fairer to ask who he would love to draw the most. Immediately, the answer is: 'Snape. And McGonagall – they have the most interesting silhouettes.'
The hugely talented graphic designer is a bit of a Potter fan, you see. So when Pottermore asked Olly to create new covers for the Harry Potter eBooks, he jumped at the chance.
'Harry Potter has always been my favourite. I skipped [Philosopher's Stone] because I was being a weird snob about it – I was ten. Then by the time Prisoner of Azkaban was out, I remember my mum saying I should read them.
'We were going on holiday and she bought [Azkaban] for me, but she got me the adult covers of the first two novels because I was still being a snob.'
Even then, covers mattered.
Olly's striking reimaginings of famous movie posters and his distinctive art style show his flair for creating iconic imagery with a twist. He says he was originally inspired by modernist graphic designers like Saul Bass, Paul Rand and, more recently, Jason Munn.
'He's a great gig poster designer. He's the guy that really turned me on to the double image approach to things.
'I like things to have more than one layer. The initial, "Oh, that's an attractive image," then it's got a secondary reveal when you look closer. It's something that I've always enjoyed doing.'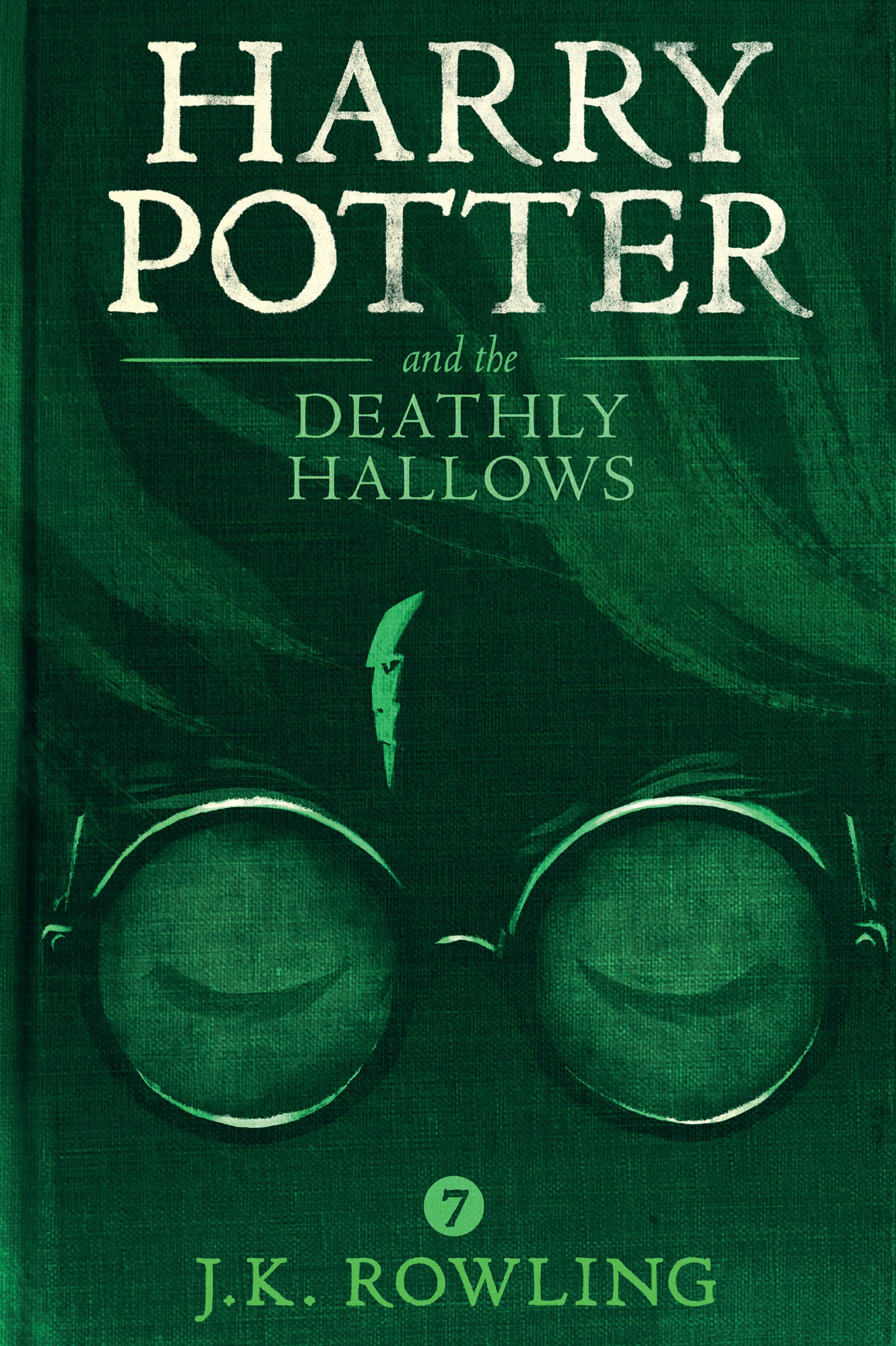 Each of these new covers tells more than one story. Look closely at Harry Potter and the Deathly Hallows; there's a detail that's easy to miss at first sight.
'Deathly Hallows is my favourite cover, because it's the image that has summed up Harry Potter in my mind for such a long time. The scar – it feels like the culmination of the entire series and that's the image that's been stuck in my head.
'This is a world where things often seem quite mundane on the surface and then have a secondary reveal. I love coming up with those images because it makes me feel that no one's done this before – no one's seen something in this specific way.'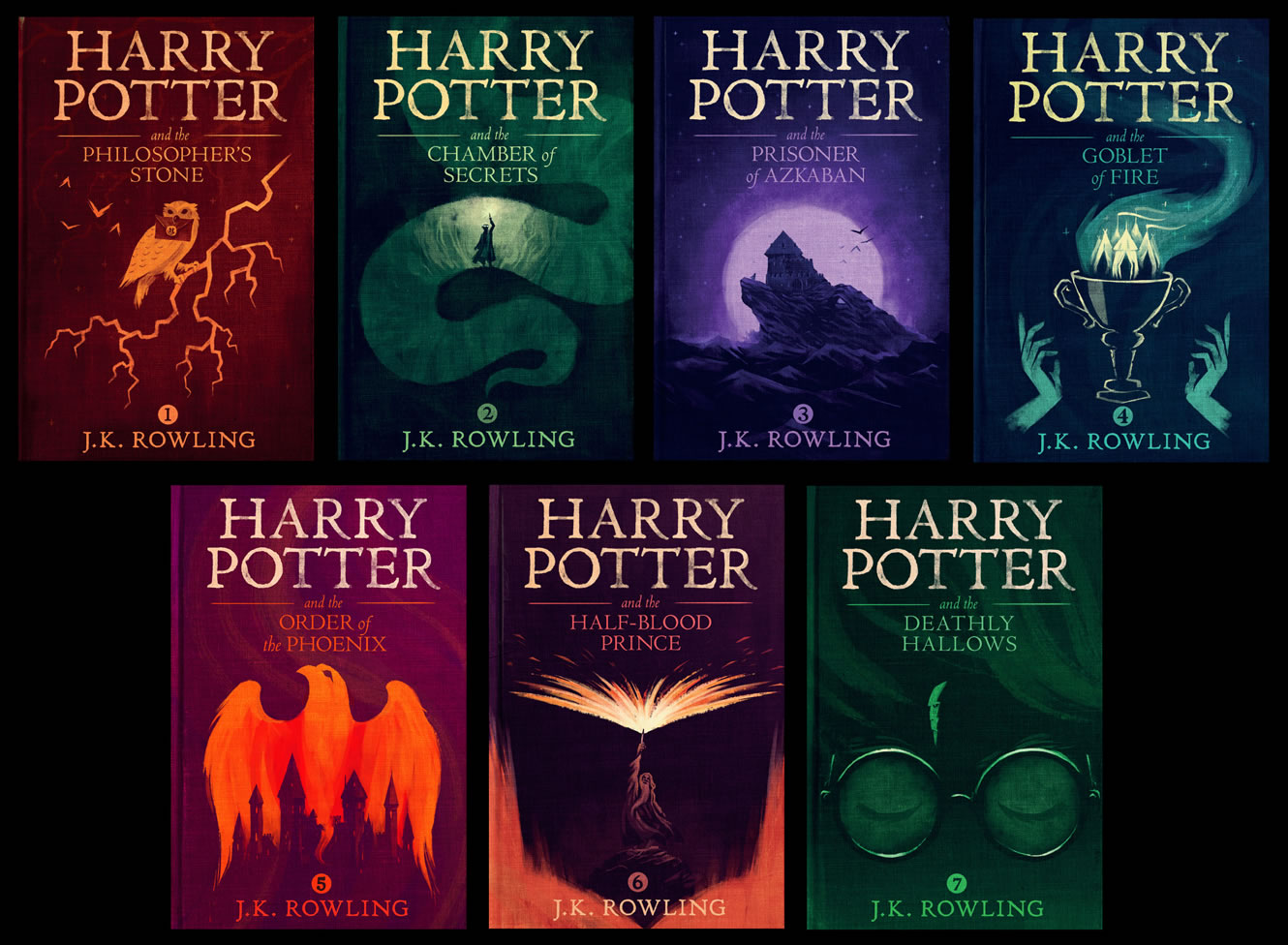 Now Olly's designs front the books he's read since childhood. He tells me that the project has been a labour of love. 'I really pitched my heart out. I came up with four or five different approaches and sketched most of the books for each.
'The next day I got on a plane to Comic-Con, crashed on a friend's hotel room floor and figured I'd forget about it. Two days later I woke up really hungover – so, so hungover, because we'd been in the hotel bar until four in the morning. I got the call that said I got the job and I lost my mind.'
As a massive fan of the book series, Olly says he was also conscious of avoiding visual spoilers.
'For Half-Blood Prince I thought maybe I should have a Snape cover but then that could be a horrible spoiler. Really it's the book; it's Dumbledore and Harry fighting off the Inferi. That's such a vibrant image from that book. Also it's nice to get Dumbledore on a cover.'
Kathleen Kennedy, president of LucasFilm, revealed in an interview that Industrial Light & Magic London has some of Olly's work painted on the wall. What does he think about the idea of J.K. Rowling having his designs above her mantelpiece some day? With both hands over his face and a barely audible 'Whoa,' the thought might be a little intimidating.
'That was easily the most terrifying aspect of this entire brief. I could deal with the failure of not getting the pitch, the thing I was terrified of was making something she hated.
'It must be tough because she has inspired so many people to make so many different things. She must be bombarded with different interpretations of her work all the time, so to make something that really stood out as something she enjoyed would be really cool to me.'
From the beautiful Gryffindor red and gold colours of Philosopher's Stone to the howling wolf within Prisoner of Azkaban, the attention to detail and cleverness of Olly's designs are a perfect match for J.K. Rowling's words. They show just how much Olly adores these stories – something you pick up within minutes of talking to him.
'I wouldn't work on something that I didn't really love or wasn't important to me, because I wouldn't do a good job.'

The eBooks with the Olly Moss artwork are now available at all leading retailers worldwide as well as our Pottermore Shop.