eBooks
Browse our range of eBooks from the Wizarding World. A host of languages and a world of magic, all at your fingertips.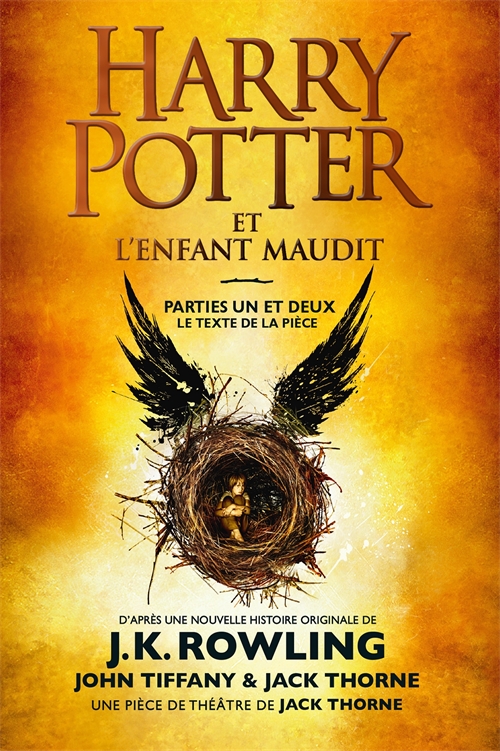 Cursed Child
Harry Potter et l'Enfant Maudit - Parties Un et Deux
Dix-neuf ans ont passé depuis que Harry Potter, Ron Weasley et Hermione Granger ont sauvé le monde des sorciers, et ils sont de retour dans une extraordinaire aventure, accompagnés d'une nouvelle génération courageuse qui fait seulement ses premiers pas à l'École de Magie et de Sorcellerie de Poudlard. Lorsque Harry fait face à un passé qui ne cesse de resurgir, son plus jeune fils, Albus, éprouve des difficultés avec la lourde réputation familiale dont il se serait bien passé. Avec un passé et un présent qui s'entremêlent, le père et le fils sont contraints de se battre contre des forces mystérieuses dans une course à travers le temps afin de maintenir l'équilibre du futur.
Basé sur une histoire originale de J.K. Rowling, John Tiffany, et Jack Thorne, Harry Potter et l'Enfant Maudit est le scénario complet et intégral de la production primée du West End. Cette édition inclut le dialogue final et la mise en scène de la pièce de théâtre originale en deux parties, une conversation entre le directeur John Tiffany et le dramaturge Jack Thorne, l'arbre généalogique de la famille Potter, et la chronologie des événements marquants du monde des sorciers menant à Harry Potter et l'Enfant Maudit.
error:
Right click has been disabled.