Audiobooks
Our full range of audiobooks. Amazing narrators from around the globe, transporting listeners to the Wizarding World.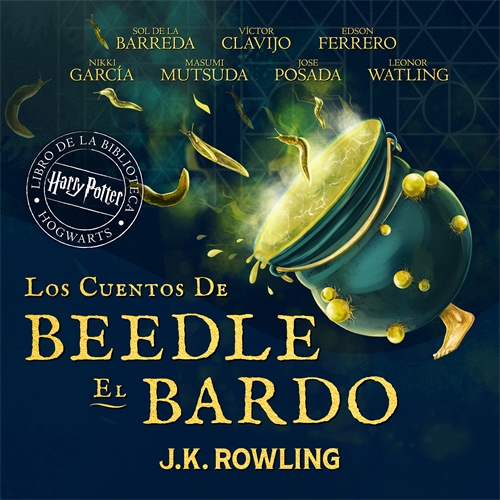 Hogwarts Library Books
Los cuentos de Beedle el bardo
Read by Nikki García,Jose Posada,Edson Ferrero,Sol de la Barreda,Masumi Mutsuda,Leonor Watling,Víctor Clavijo
Los cuentos de Beedle el Bardo es una recopilación de relatos muy queridos por brujas y magos de todas las edades, y que vendrían a ser la versión del mundo mágico de los cuentos de los hermanos Grimm. Esta edición ha sido traducida de las runas originales por Hermione Granger, con notas adicionales del profesor Dumbledore y J. K. Rowling.
Estos relatos clásicos entretienen y educan a partes iguales, además de ser una gran oportunidad para conocer las historias que jugaron un papel crucial en la lucha contra Lord Voldemort. La obra se compone de cinco cuentos: «La fábula de los tres hermanos», que los lectores de Harry Potter y las Reliquias de la Muerte reconocerán de inmediato, «La fuente de la buena fortuna», «El corazón peludo del brujo», «El mago y el cazo saltarín» y «Babbitty Rabbitty y su cepa carcajeante».
Las estanterías de la biblioteca de Hogwarts también albergan muchos otros libros fascinantes. Si disfrutaste con Los cuentos de Beedle el Bardo, quizá quieras echar un vistazo a algunos de sus otros tesoros: Animales fantásticos y dónde encontrarlos y Quidditch a través de los tiempos.

El distribuidor proporcionará al menos el 90 % de los ingresos* que Pottermore Limited perciba por este audiolibro a The Lumos Foundation por su labor ayudando a menores en todo el mundo a salir de instituciones para que puedan crecer al calor de familias y comunidades. The Lumos Foundation es una organización benéfica registrada en Inglaterra y Gales con el número 1112575, así como en EE.UU. (EIN 47-2301085).

* Se entiende como ingresos el precio en efectivo o equivalente a efectivo menos impuestos de venta.
error:
Right click has been disabled.