Audiobooks
Our full range of audiobooks. Amazing narrators from around the globe, transporting listeners to the Wizarding World.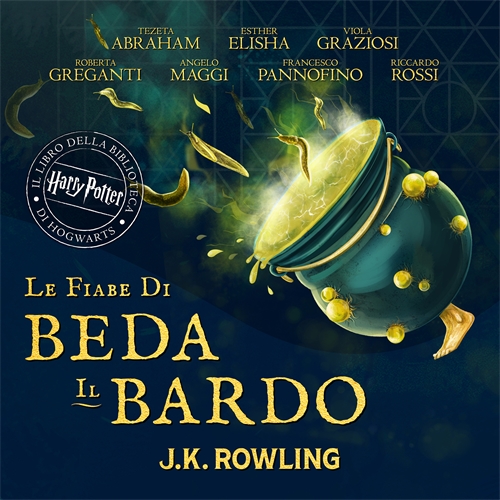 Hogwarts Library Books
Le fiabe di Beda il Bardo
Read by Roberta Greganti,Riccardo Rossi,Angelo Maggi,Viola Graziosi,Esther Elisha,Francesco Pannofino,Tezeta Abraham
Una collezione delle storie più amate dalle streghe e dai maghi di tutte le età, Le fiabe di Beda il Bardo sono le fiabe dei fratelli Grimm del mondo magico. Questa edizione è stata tradotta dalle rune originali nientemeno che da Hermione Granger in persona e contiene note molto utili del professor Silente e di J.K. Rowling.
Una magnifica opportunità di leggere quelle storie che hanno avuto un ruolo cruciale nella lotta contro Lord Voldemort, questi classici delle fiabe sapranno senz'altro dilettare ed educare in egual misura. Le fiabe sono cinque in totale: La Storia dei tre Fratelli, conosciuta da chiunque abbia letto Harry Potter e i Doni della Morte; La Fonte Della Buona Sorte, Lo Stregone dal Cuore Peloso, Il Mago e il Pentolone Salterino e Baba Raba e il Ceppo Ghignante completano la collezione.
Negli scaffali della biblioteca di Hogwarts puoi trovare molti altri libri interessanti. Se Le fiabe di Beda il Bardo ti è piaciuto, forse troverai di tuo gusto anche altri piccoli tesori: Gli Animali Fantastici: dove trovarli e Il Quidditch Attraverso i Secoli. 

Almeno il 90% dei proventi* ricavati da Pottermore Limited su questo audiolibro verranno devoluti dall'editore a The Lumos Foundation per il loro impegno nel far uscire i bambini dagli istituti e permettergli di crescere in famiglie e comunità affettuose. The Lumos Foundation è un ente benefico registrato in Inghilterra e in Galles con il numero d'iscrizione 1112575, e negli Stati Uniti (EIN 47-2301085).

*I proventi corrispondono al prezzo in contanti o all'equivalente prezzo in contanti meno le imposte di vendita.
error:
Right click has been disabled.