eBooks
Browse our range of eBooks from the Wizarding World. A host of languages and a world of magic, all at your fingertips.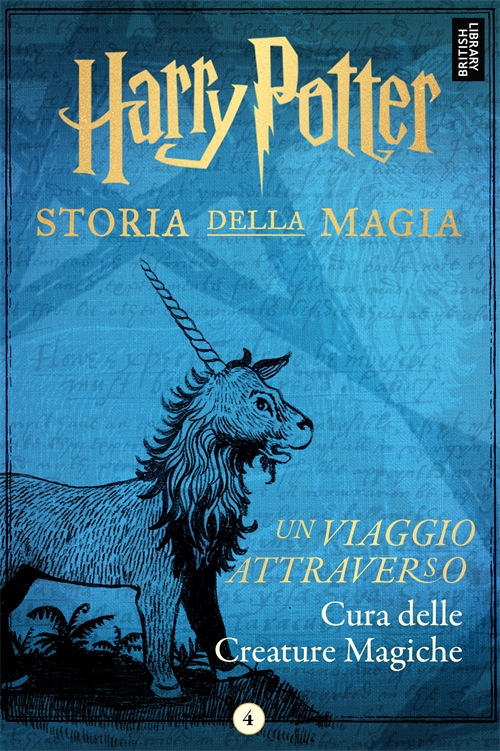 A Journey Through...
Un viaggio attraverso Cura delle Creature Magiche
Details
| | |
| --- | --- |
| Format: | eBook |
| Publication Date: | 22nd August, 2019 |
| Other languages: | EnglishFrenchGerman |
| ISBN: | 9781781104606 |
Questo breve eBook di saggistica include contenuti adattati dall'audiolibro Harry Potter: A History of Magic, ispirato all'omonima mostra della British Library.
Le creature magiche, da quelle più comuni del folklore come giganti, draghi e sirene a bestie meno note come l'Acromantula e l'Ippogrifo, hanno un ruolo fondamentale nelle avventure di Harry Potter. Naturalisti ed esploratori del passato hanno viaggiato in lungo e in largo per scovare insolite e straordinarie creature, ampliando le conoscenze del mondo e alimentando scoperte scientifiche. Voler credere all'impossibile sembra una caratteristica intrinseca alla natura umana: basti pensare, ad esempio, ai bestiari e alle varie camere delle meraviglie del medioevo. Al giorno d'oggi è probabilmente molto semplice distinguere tra verità e mito, ma le creature magiche e le leggende che ne trattano continuano ad affascinare: sono essenziali alle storie del mondo di Harry Potter tanto quanto Harry, Hermione e Ron.
Questo breve eBook esamina personaggi pittoreschi e curiosi fatti realmente accaduti nella storia della magia, illustrando come sono collegati alla materia di Hogwarts Cura delle Creature Magiche.
La storia della magia è lunga quanto il tempo e vasta quanto il mondo. In ogni cultura, in ogni luogo e, probabilmente, in ogni cuore, si trova un po' di magia.
error:
Right click has been disabled.